Please subscribe today and download our most recent release, "Looking For That Summer Hit" and please do let us know which one you think it should be the hit and feel free to send that to your favourite DEE Jay, with our recommendation and advice this its best enjoyed with the car windows down and the stereo full up..

Today Medicine Show Records release is our 18th Collection of independent artist who we have met on the road in our Medicine Show Radio Moose meanders across 1500 miles 28 countries 25 US states and 4 Canadian provinces or we have helped online through Medicine Show Radio and iMTV - international Moose TV All these artists help us by donating their music and employ Medicine Sjhow promo to promote their songs and all for your enjoyment . We now boast over 100 such professional independent artists in our family fold here for you to explore.

At the moment we have I have 5 2021 released albums and 32 artists to publicise across Europe, a social media TV network and a radio show to populate and develop, an up coming crowd funding platform to find a way to build and develop with the hope it will help everyone here produce finance for the albums of songs that are backing up in the lock-down. Two exciting new clients to set up for (watch this space), a new festival to help establish sell, and deliver on July 31st, this summer. your subscription and any donations for any of the albums and songs will help with all of that.

For this £5 support I pledge to release exclusive Moose Crew content and merch - for £10 you have my eternal gratitude as well as this album and any other via download here too - for £50 I will I will send a medicine bag of CD goodies with some of the current 2021 releases in - for £250 we will arrange a Medicine Show House Concert Hub house/garden concert for you and your friends family bubble anywhere, this side or stateside with Medicine Show family fold artists or, you + 1 will be invited as a VIP guest to any of our post lock-down festival events in this coming 12 month period - for £500 all of the above and as massive a hug as is allowed within current restrictions (your all due that) :-)

Please do join our community and enjoy the music and camaraderie, I know i do and you would be very welcome too as well.

Fraternally and gratefully.
Rob Ellen
www.medicinemusic.co.uk
Here's what you get:
All the new music we make

streaming instantly on your mobile device via the free Bandcamp app, and also available as a high-quality download.*

These back-catalog releases:
A 50% discount on all our merchandise.
The satisfaction of knowing you're supporting us in a sustainable way.
You're a subscriber
Thank you!
* Downloads are DRM-free and available in MP3, FLAC and
more
.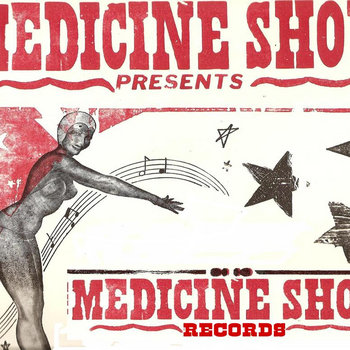 Medicine Show Records
Kent, Ohio
The Medicine Show is run by Scots Broadcaster Promoter Rob Ellen. He tends a tour of the Highlands for touring roots musicians. He helped found Belladrum Tartan Heart Festival.
The Highland tour has become a pilgrimage with American Musicians in particular, wishing to trace the roots of the music.
Rob's particular interest, is supporting House Concerts. Rob maintains the Euro House Concert Hub